- Donald J. Cohen Fellowship Program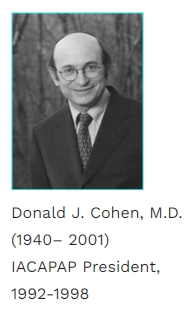 The Donald J. Cohen Fellowship Program for International Scholars in Child and Adolescent Mental Health
is a mentorship/training program for young professionals modeled on successful activities at previous IACAPAP Congresses and Research Seminars. Approximately twenty fellowships are awarded at each IACAPAP Congress, to avail this valuable opportunity.
The purpose of these Awards is to foster the professional development of emerging leaders in child and adolescent mental health throughout the world. We understand 'leadership' in its broadest context – whereas some countries may benefit most from advancing their scientific and research development forward, others will benefit from organizational change in their pediatric mental health infrastructures, and yet others from enhancing the education and training of a new cadre of specialists.
The program includes:
Daily small group meetings with leading experts serving as mentors
Dedicated poster presentations attended by senior faculty members
Special seminars
Social activities
Free registration fee for the general sessions
Accommodation in Rio de Janeiro
Partial support or full coverage of traveling expenditures to the Congress
The fellowship is designed for individuals whose engagement could play a pivotal role in addressing the very specific needs of their country of origin. To this end, a prerequisite for all applicants is a submission of a project suitable for a poster or oral presentation at the Congress. Good command of English is an essential requirement.
We encourage all interested and eligible candidates to apply. We especially welcome applications from colleagues under 35 years of age and from countries where child and adolescent psychiatric needs are under-served and under-represented.
The application process is now open
Requirements:
Complete Application
Submission of a project suitable for a poster or oral presentation at the Congress (to be submitted through the regular abstract submission system of the Congress website).
Good command of English
A recommendation letter from your supervisor or a more senior colleague.
Applications close on November 30th, 2023.